The links between nature and wellbeing are strong and clear, so it should be no surprise that foraging boosts wellbeing; after all, it prompts us to not only get out in nature, but to pick, smell and taste it! However, the extent to which foraging can improve personal, community and environmental wellbeing are so remarkable that we are keen to share them widely.
---
It was a great pleasure to co-host NOW's first wellbeing-focused course at the wonderful Eden Rise, together with Dan Dawson and Tamara Colchester. Participants described it as "nourishing and informative" and kindly said our "skills, energy, enthusiasm and passion were truly inspiring". There have already been requests for more, so we've agreed to run a series of three courses on foraging and wellbeing in 2019 covering Spring, Summer and Autumn – watch this space for full details!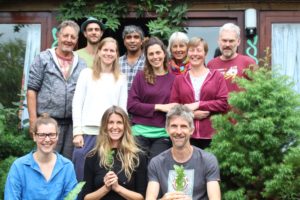 The benefits of foraging
Foragers consistently share a range of benefits they receive, including:
free food that's as fresh as the time it takes for you to pick it and plate it,
nutrients and a level of freshness that you wouldn't get so easily from shop-bought food,
a wide range of surprising ingredients, offering more diversity and flavours,
the element of surprise and adventure, never knowing exactly what you'll find or where!
Below we draw on the Five Ways to Wellbeing framework to further explore how foraging has major benefits for wellbeing.
Connect…
By foraging in a group strong bonds can form between people. One of those who attended the above-mentioned foraging weekend at Eden Rise commented: "I'm looking forward to deepening my connection to wild food and hopefully to the lovely people who made such an enjoyable group too".
This is just the beginning of how foraging allows us to connect: through foraging we also connect with nature, with our wider environment, plus we enter a world of fellow foragers with whom we are deeply connected wherever and whenever we meet them. Whether they are fellow 'plant geeks', or casual foragers, there is always a strong bond when people connect through their love of foraging!
Be Active…
Foraging helps us get out and about. A 'foraging walk' can at times involve very little walking. as we stop to notice new plants with every step. However, the very practice of foraging gets us outdoors; how active we'd like to be is then up to us! Tamara and Dan love to hike before they forage, whilst I specialise in foraging on my doorstep!
Take Notice…
There are strong links between foraging and mindfulness, meditation and being present as we slow down and take notice of the plants and other creatures we share our world with. We notice how these plants and other beings change according to where they live and we notice how the weather and the seasons affect this. In slowing down we can allow our foraging practice to become whatever kind of meditation or mindfulness practice we like. As with being active, foraging helps us start, it's then up to each of us where we take it.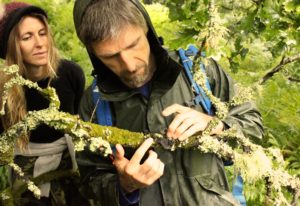 Keep Learning…
Research shows irrefutably that keeping learning throughout our lives keeps our minds active and healthy and is good for our wellbeing on many levels. We can start the foraging journey by learning about a single plant. Once we've begun, foraging opens up a world of endless learning – if we'd like to explore it. There are thousands of varieties of leaf, seed, flower, root, stem, insect and other things we can forage for food, medicine, fibre and other uses. Foraging really is a limitless learning opportunity, from what you collect to how you cook it!
Give…
Foraging is humbling and inspiring as it shows that nature is abundant and gives freely. By receiving nature's gifts foragers are naturally more inclined towards generosity themselves; giving their knowledge, giving back to the plants and creatures they forage. For example, when picked sensitively many plants will actually be stimulated and grow more healthily!
Thank you and stay in touch
Huge thanks to all those interested in foraging and wellbeing, and especially those who joined our recent event. Connect with NOW on social media and via our newsletter to stay updated on future events.