The wellbeing benefits of the natural world are regularly highlighted through our work at the Network of Wellbeing, and so it's a pleasure to see that many other people share our passion.
---
One example of this is the well-respected Arts and Humanities Research Council supporting a research project on Cultures of Nature and Wellbeing. This project is led by Samantha Walton at Bath Spa University, and explores the links between nature, health and environmentalism in 20th and 21st century literature.
I recently attended the second of three seminars organised through the project, and was inspired by all that was shared. It's clear that nature-based wellbeing activities are proving very popular – and that lots of researchers are choosing to study them. The variety of activities is matched only by the variety of research methods being used.
Getting outside is good for us
Recently, we shared a video about how we need nature and nature needs us:
The importance of our connecting with nature was also strongly highlighted at the Cultures of Nature and Wellbeing seminar. The diversity of nature-based wellbeing activities around the UK was highlighted by Rebecca Crowther of Edinburgh University. She uses ethnographic methods to explore why getting outside is good for us – whether it be practical activities or simply walks with like-minded people. You can read more about the background of this research in a previous guest post Rebecca kindly shared on the NOW blog.
One other form of nature-based therapy discussed was care farms. Care farming is the therapeutic use of farming activities and care farms to provide health, social or educational care for vulnerable individuals. Richard Gorman from Cardiff University is studying them. He said that there are 240 such farms across the UK with an estimated 8,000 people visiting them each week. They even have a charity to promote them.
Creative adventures in nature
For many, the connection between nature, wellbeing and creativity is a natural one. Another presenter at the seminar, Morwhenna Woolcock, the Creative Adventurer, explores this through her creative practice and increasingly by helping others. "My 'power of three' are Creativity, Adventure & Nature all wrapped up in a bubble of mindfulness and you'll find these woven throughout everything that I do" she says.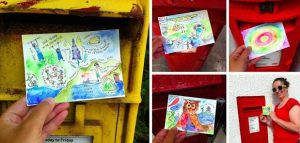 Morwhenna's projects have included cycling, sailing and walking the 190 miles from her home in the Brecon Beacons to Morwenstow in North Cornwall in 2015. And her creative adventure through nature has continued this year with visits to twelve British islands in 12 months. As part of her projects, she creates beautiful postcards (pictured) from the places she has visited.
Focusing on what matters
Nature is clearly a source of health and happiness for people, and the flip side of this is that the loss of nature is also a source of distress. Many practitioners, such as Emily Malik from EcoWild near Bath, are passionate environmentalists. Likewise, many researchers are passionately concerned about the links between wellbeing and wider social issues. Owain Jones, from Bath Spa University, pointed out that, "there would not be wellbeing discourses if we were not deep in an era of unwellness". And Liz Zeidler, from Happy City, spoke fluently of the need to measure what matters so that research could address policy questions ranging from the redesign of public spaces to the direction of the economy.
It's clear that, for many, a focus on wellbeing has led or is leading to a reappraisal of what is important, both for our personal lives and for society as a whole. And nature-based wellbeing activities are playing a healthy part in that process.
Learn more
If you are passionate about this topic and would like to know more, you can:
Learn more about the Cultures of Nature and Wellbeing project here.
Check out our recent World Environment Day series on wellbeing and nature here