Date/Time
Date(s) - 26/11/2019
7:30 pm - 9:30 pm
Location
Totnes United Free Church
Changing Culture: How Culture can Catalyse a Values Revolution
Tom Crompton, Common Cause Foundation
We tend to lose hope in the potential for change because we don't believe other people care. Groundbreaking research by the Common Cause Foundation found that most people actually care deeply about one another and the world around them, often valuing equality, compassion and kindness highly. This workshop with the co-founder of the Common Cause Foundation, Tom Crompton, will show you appealing to people's self-interest can undermine change and how everyday encounters can bring the kindness, compassion and care needed for rapid transition out in the open.
Tom Crompton has worked on values and social change for over a decade with some of the UK's best-known charities. He is now coordinating the establishment of the Common Cause Foundation, whose work seeks to strengthen and give voice to the compassionate values that underpin social and environmental concern. To see Tom in action watch this video of a past TEDx talk in Exeter
£8 full price/£5 low-waged. Booking is essential and opens one month prior to the event.  There are a limited number of fully subsidised tickets for this event- please email info@transitiontowntotnes.org for information.
This event will be held at the Totnes United Free Church on Fore St.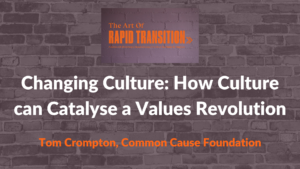 —————————————————————————————————
This event is part of the Art of Rapid Transition series. As momentum for rapid transition in response to ecological and social challenges grows, this series of talks and workshops, brought to you by Transition Town Totnes, Schumacher College and the Dartington Hall Trust, and supported by Devon County Council, will provide the opportunity to explore how we can come together to make a transition that meets the needs of people and the planet, locally and globally.
To find out more about the Art of Rapid Transition series and take a look at future talks, workshops and events in the programme, please visit www.transitiontowntotnes.org/rapidtransition