Relaxation is a very basic need of almost every living creature. Not only does it keep us from getting ill, but it has the potential to rejuvenate us. Some simple well-intentioned time off can fix, or at least ease, many stresses and problems. This is especially important to remember during the often-stressful holiday season.
---
Perhaps you've been too busy with your job or your family commitments, or you simply find it difficult to relax and let go of daily pressures. So here are five reminders of why you should take your remaining vacation days and find ways you to unwind before the end of the year.
1. Time for a re-set
An average work day is eight hours long, however the average person is actually only fully productive for approximately 3 hours of the day. And the more stress you have, the less productive you will be. This can be especially true during the holiday season when we often find ourselves overwhelmed with things to do. There are many wellbeing benefits to working lower hours. Although your job may not allow you to work less hours overall, it's important that you use your vacation days and take time off for yourself when you can, in order to regain clarity and balance.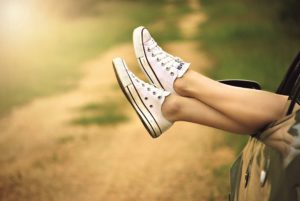 2. Self-care lowers stress and prevents more serious problems
Relaxation is a self-care method which lessens cortisol, a chemical that contributes to weight gain, relieves mood disorders such as anxiety and depression, and encourages a calmer state of mind. When you push through being tired, you're not actually getting enough momentum to think clearly and follow through with a project. Even partial sleep deprivation has an effect on your mood and can compromise your job.
3. You don't have to go too far from home to enjoy time off
There are many common fears when it comes to taking time off, such as the costs of taking a break or not feeling able to get away and make the most of limited free time. But it's up to you to decide how and when you would like to spend your time off. You don't necessarily have to leave your home or city. Activities such as visiting your local museum or spending a relaxing day out in nature are excellent ways to regain your momentum.
If you prefer something more extended and distant, you can already start planning in advance where and how you would like to go away next year. It's important to consider the type of vacation that recharges you. You may want to spend your time in nature, away from it all, or you may want to go on a thrilling adventure.
4. Time off can change your perspective…
Taking time off can benefit anyone. Vacations are refreshing as they often involve seeing different people, places, and things. This can build a new perspective and enliven your creative processes, help you out of a rut, offset boredom, or even give you a sense of energy that you may not have felt in a long time.
5. … and help you get in touch with yourself
If the time you take off is particularly memorable, then you may not go back to work feeling the same way as when you left. Making time for vacations, free time and relaxation can help you to (re-)connect with who you truly are and what you enjoy doing in your life.
In a nutshell…
The daily stresses of balancing work and home commitments are difficult, and the holidays can potentially offer added stresses. Making time for a break every once in awhile and planning opportunities for self-care can help you to more fully experience what it truly means to live, from life's daily joys to it's awesome diversity and potential.